In this article, we'll look at products from our Riding Gear Chemicals section that make it easy to protect and extend the life of riding gear items such as leather jackets, off-road pants, waterproof windbreakers, down vests, boots, armored gloves, backpacks, outdoor equipment, and much more. In a nutshell, what makes riding gear chemicals well worth having is that they are specially formulated to clean, condition, and waterproof the materials best suited to motorcycle apparel.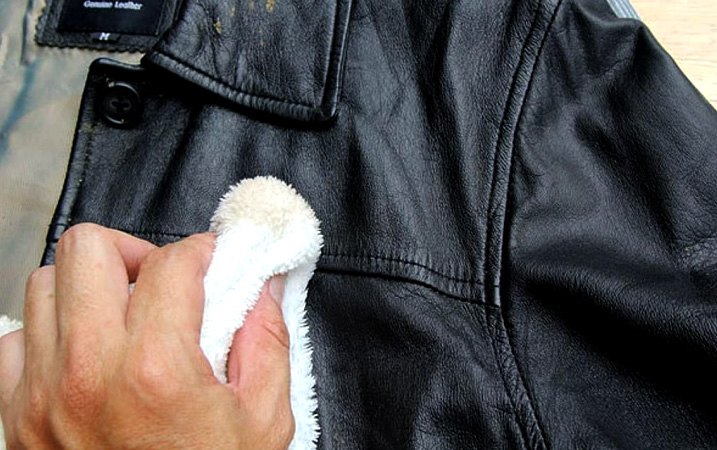 Don't let the word "chemicals" scare you. Most of the cleaning and conditioning products we sell are non-toxic, environmentally friendly, and biodegradable.
When you consider the low cost, ease of use, and overall effectiveness of these care products, it's easy to see they're a smart-money purchase. After all, your riding clothes are long-term investments – so keep them in good shape for a long time by protecting them right!
Durable Water Repellency
First, let's discuss what a "durable water repellent" (DWR) is. A DWR is a thin layer of liquid applied on the surface of garments that repels water, dirt, and grease. Such treatments are originally applied when garments are manufactured, but naturally diminish due to abrasive wear, and because dirt and grime get into clothing fibers. In order to truly protect your fabric, leather, gloves, and other riding gear items, water repellency treatments must be re-applied periodically.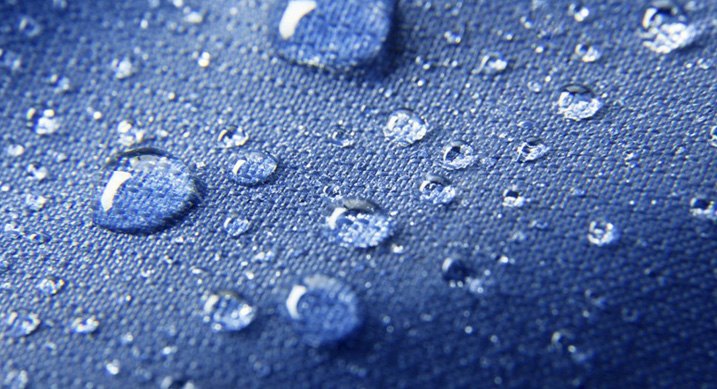 Before this can be done, a proper cleaning to remove dirt and grime from the pores of clothing is a must. This gunk isn't just on the surface – it embeds itself into the fabric as you ride at higher speeds. That gunk then soaks up water and dampness – so instead of water beading on the surface of your clothes, everything becomes soggy and waterlogged. Depending on what the items are made of, this can have a mild or extremely detrimental effect. So without the proper type of cleaning first, it's impossible to effectively boost durable water repellency levels.
Once surfaces are clean, it's easy to apply spray-on or wash-in DWR treatments (more about these below).
Leather Products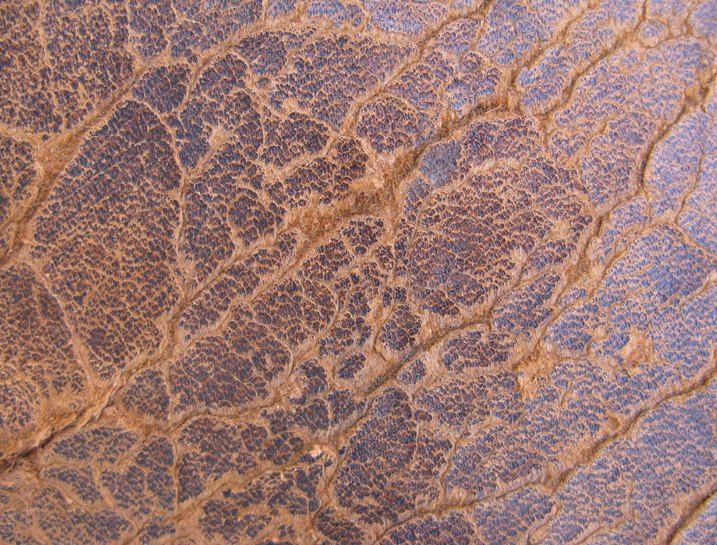 When leather riding gear and equipment become waterlogged, the material also loses tanning agents and lubricants that keep it moist. Gradually, it dries out, becomes structurally degraded, and develops cracks. That's why old leather which hasn't been cared for sometimes gets stiff and scratchy compared to new leather which feels soft and buttery to the touch.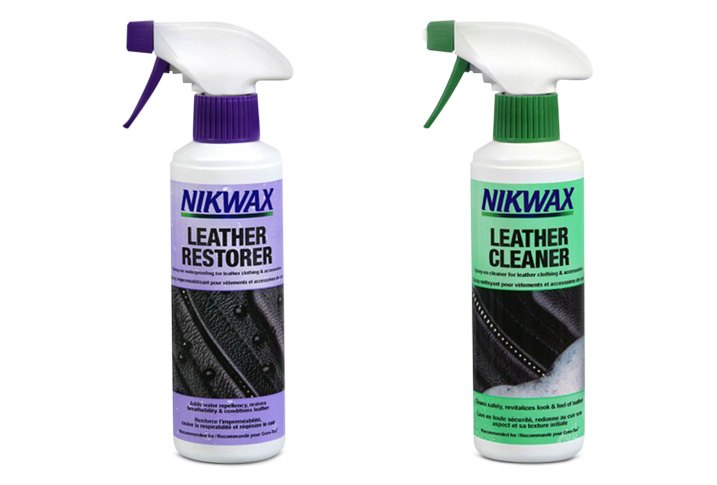 The first product we'll recommend for leather is Nikwax Leather Cleaner – which focuses on removal of dirt and stains that accrue on and in the surface of leather clothing, gloves, and other items. Application is performed easily by hand.
Once you've got things cleaned, Nikwax Leather Restorer is blended to add DWR water resistance while replenishing lubricants and tanning agents back into the leather that get lost over time and during cleaning. Nikwax's leather restorer is a water-based product and does not use any animal fats which might cause detrimental microbe growth.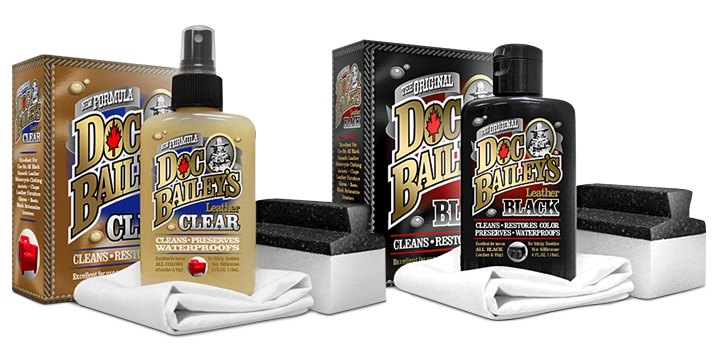 We've also got two complete leather cleaning and conditioning kits from Doc Bailey's. The Original Leather Clear Kit is a spray-on/wipe-off natural wax which adds a subtle, new-looking shine to leather items of any color. With natural waxes in place of silicone gels, leather and vinyl surfaces are protected without a sticky residue being left. If you've got black leather, we recommend Doc Bailey's Original Leather Black Detail Kit designed to fill and hide any light scratches and scuffs while darkening the leather with a supple-looking shine if things have gotten dull.
Leather Gloves
If you've got gloves made from leather or breathable materials such as Gore-Tex, clean them thoroughly with an appropriate cleaner, then use Nikwax's Glove Proof to restore water repellency. It's also specially formulated to replenish any lost tanning agents (leather) without clogging up pores in knitted fabric. This is a good product for gloves or other garments that may have sections made from different types of materials.
Vintage & Specialty Leather Items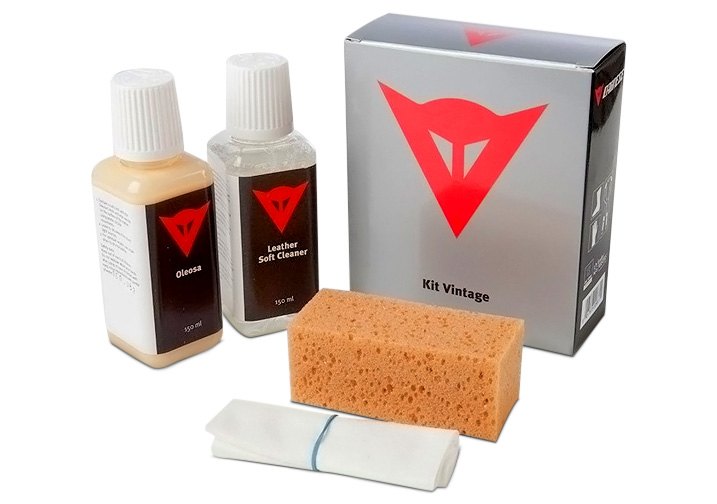 If you've got vintage leather items, they require extra TLC. For this, we've got the Dainese Vintage Kit which includes one bottle of a more sensitive cleaning solution, and one bottle of leather protective cream that's also suitable for "pull-up" leather that's oiled and wax-treated. Note that the conditioner is not recommended for normal leather or "nubuck" leather. For nubuck type leather which is sanded to produce a softer velvet appearance similar to suede, there's the Dainese Nubuck Cleaning Kit.
Cleaning & Caring For Fabrics
Water Repellency Treatments Designed for the Washing Machine
If you've got rain gear clothes such as windbreakers, fleece, or hard-shell nylon clothes which are designed specifically to repel water, we've got a two-stage treatment designed for automatic application during two separate washing machine cycles.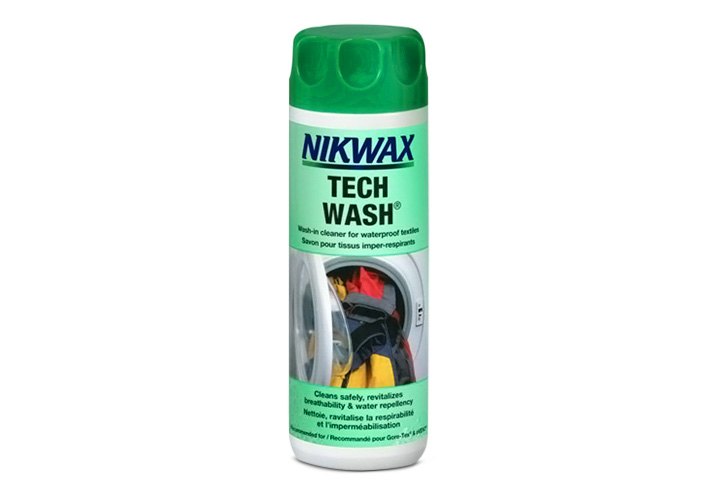 On the first wash cycle, NikWax's Tech Wash detergent is designed to get into pores to remove dirt and revitalize breathability. In a second wash cycle separate from the first, use NikWax's TX.Direct Wash-In that coats fabric, seams, strings, and all surfaces with water repellency chemicals.
Spray-On Water Repellency Treatments
If you prefer a spray-on water repellent to use on clothes or gear such as backpacks, boots, tents/outdoor equipment, or other items that haven't been pre-treated, we've got you covered with Nikwax TX.Direct Spray-On and Revivex Durable Spray Water Repellent.
These make it easy to concentrate your application on specific areas such as elbows, pockets, seams, or other high-wear areas which need more protection. Additionally, spray-on water repellents won't affect the characteristics of moisture wicking liners, and they'll air dry normally without need for a tumble dryer (which can be hard on older garments).
Material Repair
Experienced riders know the most frustrating part about keeping leatherwear looking good are the inevitable cuts and abrasions that come from road debris and other sources. They happen over time, and are hard to avoid when you're out there riding.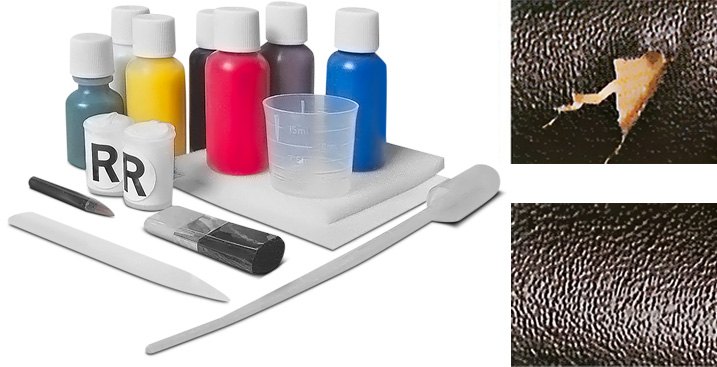 For these unsightly scars, we've got Doc Bailey's Original Leather Restoration Re-Dye & Repair-A-Tear Kit. It allows you to repair and re-dye leather or vinyl items using the same methods that professional upholsterers use. Many who use the kit tell us they're amazed with the results!

And for quick repairs when you're on the road, the Revivex Tenacious Tape Gore-Tex Fabric Patches kit contains two adhesive-backed Gore-Tex fabric repair patches that can be cut to the size and shape you need for most any hole, rip or tear. So if you're feeling the cold and rain through a split in your pants, this kit brings instant relief.
Because the patches are applied with adhesive, no complex ironing or heat treatments are necessary. The kit is perfect for waterproof-breathable jackets, pants and boots, plus it's great for fixing holes in camping tents, rainwear and backpacks.

To continue your education on motorcycle gear, we invite you to read other articles on our website regarding helmet styles, materials, certifications, accessories, and more. And if you have any questions, we'll be happy to answer your calls seven days a week!
July 02, 2019