At MOTORCYCLEiD.com, we understand that choosing the best motorcycle helmet for your needs and wants isn't easy. Smart riders know that form and function are equally important when it comes to helmets. Looking cool is great, but looks aren't worth much if you defeat safety by choosing a helmet that doesn't fit right. The pros are right on the money when they say, "Choosing the correct size is essential if the helmet is to provide the most effective protection yet still be comfortable while being worn by the user."
For many reasons, choosing a new helmet can be daunting at times, especially if you've never done so before. In this article about motorcycle helmets, we'll give you the short and skinny about how to choose one that's the right size and shape for your needs.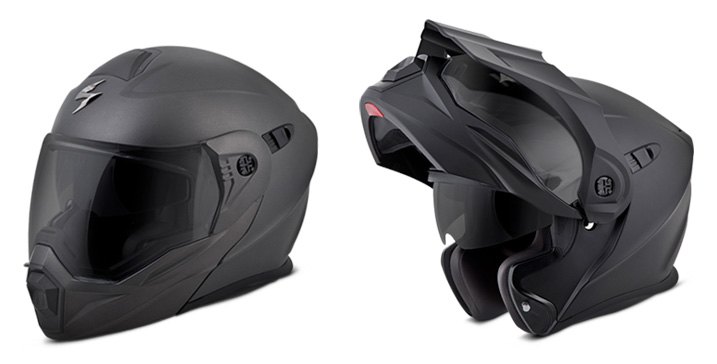 While helmets can't protect against every impact, they can protect your head to their fullest ability if the helmet has a correct overall fit and is secured properly around the chin. Take away these two things, and a helmet could come off in an accident when you need it most. Rest assured, we're as interested as you are in making sure the helmet you order from us fits tight and works right.
Measure Your Forehead Circumference First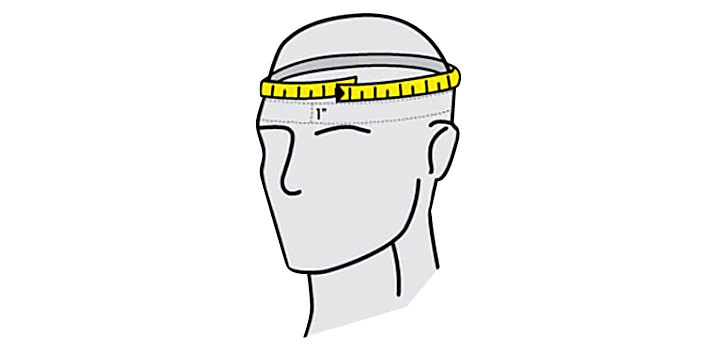 The first step in determining correct size for your helmet is measuring the length around your forehead (circumference). More specifically, use a flexible tailor's tape to make one pass around horizontally about one inch above the eyebrows – because this is normally the widest part of the head. We recommend measuring twice for accuracy.

Once you have the measurement (in centimeters or inches depending what's on the manufacturer's chart), it's a matter of using the chart provided by each specific helmet manufacturer to determine the most applicable helmet size they recommend for you (S, M, L, XL, etc). We make it easy to view such information by clicking on the icon marked "Size Chart".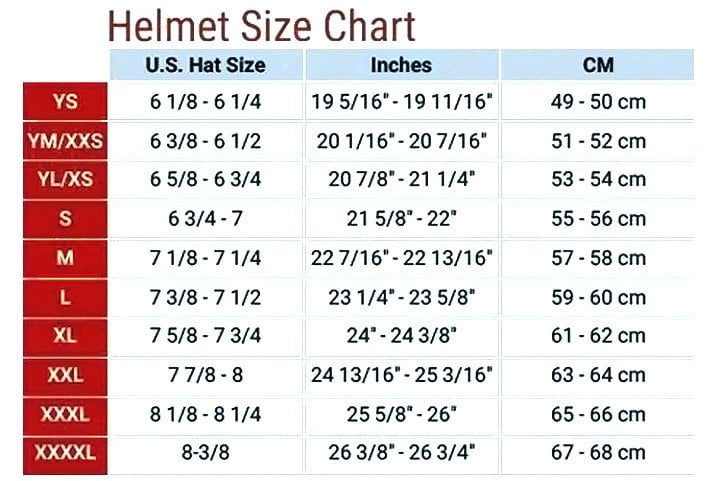 While sizes between helmet manufacturers are mostly the same or similar, there is no standardized measuring system in place to keep things uniform. Assume that every manufacturer uses sizing specific to their own products, and rely only on the size chart produced for the helmet being considered. If you already know your hat size, many helmet manufacturers provide a cross-reference for that on their size charts as well.
Select the helmet size that is closest to your head measurement from the tape. If it falls between two helmet sizes, go with the smaller of the two first to ensure a snug but comfortable fit.
The Shape Of Your Head Is Important Also

When it comes to proper helmet fitment, it's equally important to take into account the overall shape of your head - not just its size. This is because interior padded sections are typically cut out to fit heads that are rounder in shape, slightly longer and narrower, or much longer and narrower.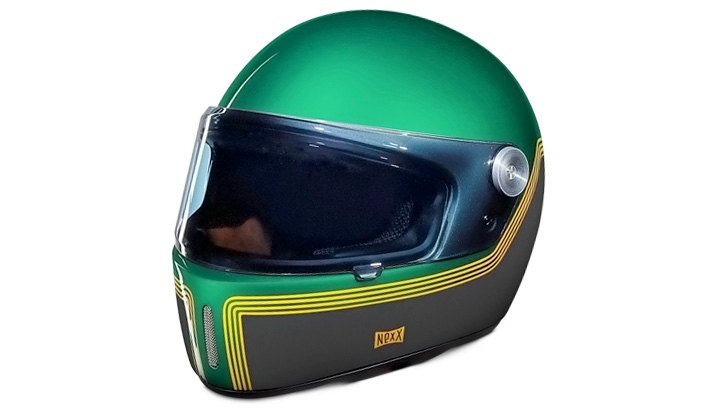 Note that the exterior shape of any helmet does not reflect the shape of head it may be designed for, and should not be used as an indicator. For example, a helmet that's round on the outside may be fitted with interior padding that's cut to fit a head that's long and narrow – or, vice verse.

We encourage you to use check boxes under the "Helmet Shape" heading found in each of the sections for various types of helmets. After selecting any of them, the products displayed will be a good fit for your overall head shape.
Selecting the "Round Oval" check box will display only helmets that can be ordered to accommodate heads where forehead-to-back and side-to-side measurements are roughly the same. "Intermediate Oval" is for heads that are slightly longer than they are wide, while "Long Oval" helmets are for heads that are noticeably longer and narrower.
Helmet Retention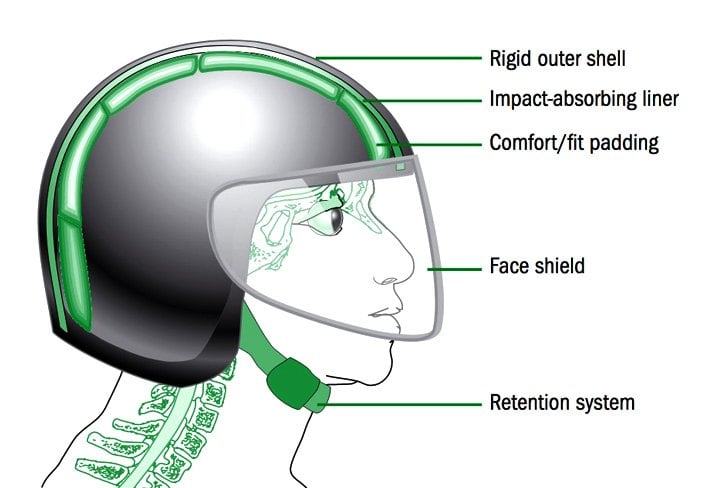 The "retention system" of a helmet consists of built-in chin and neck straps specifically designed to keep the helmet properly aligned with your head during sudden movements and turns. But mainly, retention measures are there to prevent the helmet from flying off in a crash. Anchored to both sides of the helmet shell, chin straps feature a wide range of adjustability in order to achieve the ideal snugness.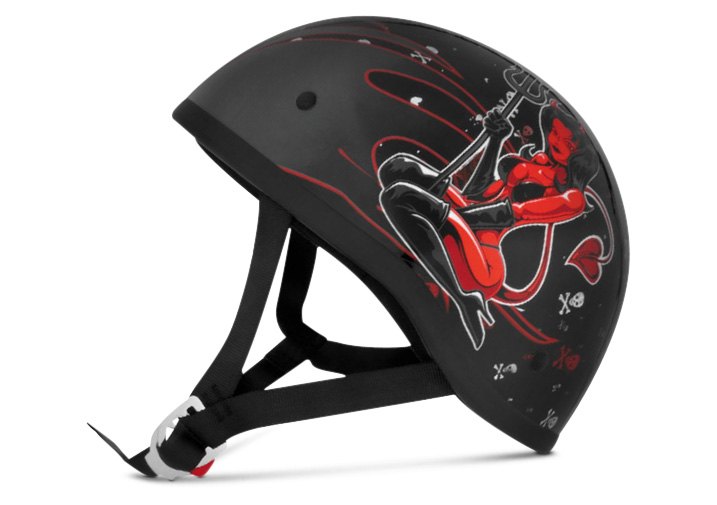 Generally, you don't need to worry about chin strap size if you order a helmet that's correct for your forehead circumference and overall head shape. Straps will be configured to adjust to about any individual who would wear that particular size helmet. Additionally, integrated chin bars which are also built into enclosed helmets will be sized to accommodate a number of jaw shapes.
Riding Position Is Important
When selecting a helmet, it's also important to think about the position you'll be spending most of your time in while riding. For example, will you be tucked down on a speed bike? Or sitting upright on a cruising bike?
With each type of riding position, a helmet with the right visibility and ergonomics will make your life easier. While this naturally applies to all helmets, how you sit on the seat must absolutely be considered – especially when it comes to more restrictive full face helmets.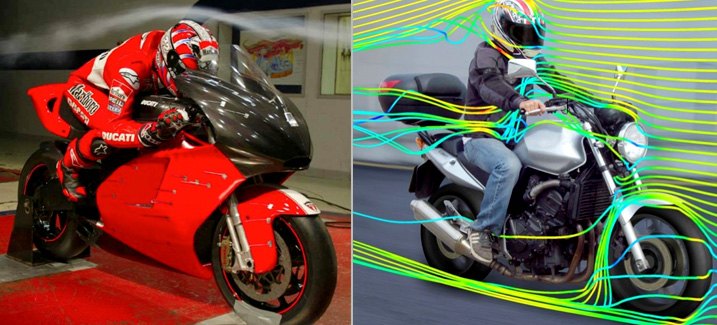 Sportier full-face helmets designed for high-speed tucking provide better angled visibility at the top of the eye area, and will have better aerodynamics to provide less buffeting at higher speeds. You'll also see additional ventilation ducts near the top of the helmet to draw air in more effectively.
Conversely, full face helmets for touring, cruising, and off-road bikes are configured to maximize visibility and ventilation, and to reduce lift while sitting in an upright position.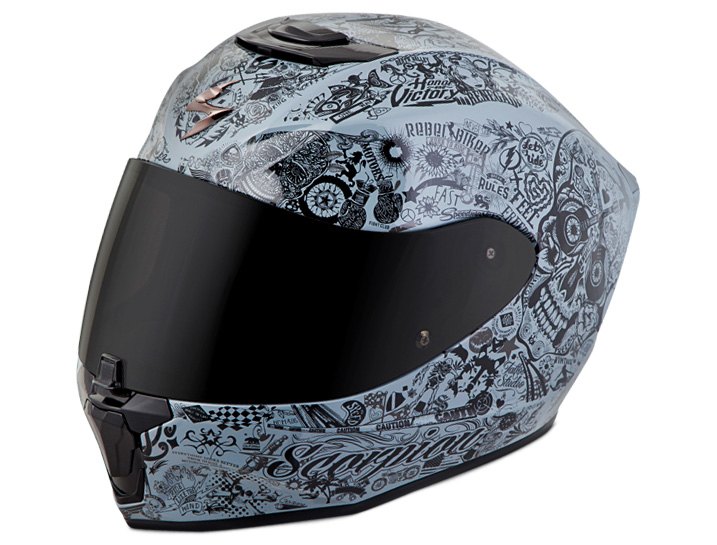 Now that you've learned about choosing the right helmet size and shape, we encourage you to read other related articles on our website for a well-rounded education on the subject. And if you have any questions, we'll be happy to help seven days a week!

July 24, 2019