We all experience "firsts" that remain etched in our memories for the rest of our lives, like your first pet, first love, first car, and first job. We created this buyer's guide to help you make a smart purchase decision, so that someday you'll be able to look back fondly on your first motorcycle too. Buying your first motorcycle is a big deal. Choose the wrong bike, one that's uncomfortable, with intimidating power, or too heavy to handle and it could end up spending most of its time in the garage. It could even lead you to decide that motorcycling isn't for you. But, get the right bike and you'll be in for hours of fun and a future filled with many more bikes and years of riding enjoyment. So, check out the tips we've assembled in this article and get started the right way on your motorcycling journey.
Training First
Your first bike shouldn't be the one you learn to ride on, for several reasons. First, even if you get a bike that's ideally suited to you, after learning to ride it and spending some time in the saddle you may decide that riding a motorcycle's just not your thing. Then you're stuck with the hassle of selling a bike you don't want. Second, newbie riders inevitably make mistakes, often ensuing in a motorcycle that's on the ground with scrapes and broken bits. You don't want to put in the effort hunting for a bike and spend a lot of money only to have it look like a beater before you can put any miles on it.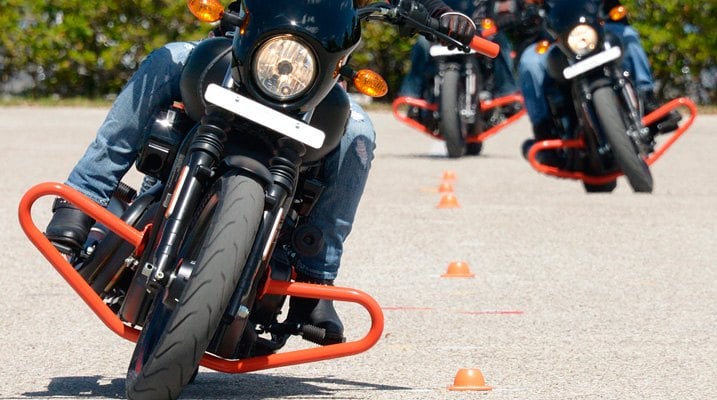 Before you begin your bike search take a rider training course. The Motorcycle Safety Foundation conducts its Basic Ridercourse in areas throughout the country. The course covers basic motorcycle operation and safe riding strategies and techniques. It includes on-line, classroom and riding instruction in a controlled environment and a motorcycle and helmet are provided for each student. In some states successful completion of this course may be accepted in lieu of the state's motorcycle license test and you may also get a discount on your insurance. If you ultimately decide you don't want to pursue motorcycling any further, you're only out the cost of the course, not a motorcycle, but if you do want to continue riding, you'll be armed with skills that will make your first bike experience safer and more enjoyable.
Budget for More Than the Bike
Insurance
Insurance with minimum liability requirements is mandatory in most states, so the cost of this coverage must be factored into your bike buying budget. Liability insurance pays the claim made by the other party if you cause an accident that results in them suffering bodily injury and/or property damage. With the continually rising costs of healthcare and vehicle repair an insurance agent may recommend that you increase the dollar amount of your coverage beyond the minimum, but of course, this will raise your premium. The increased premium cost must be balanced with how much financial exposure you're willing to risk if you're sued because of an accident.
There are also additional kinds of coverage that, while not mandatory, you may want to consider. Uninsured/underinsured coverage pays your expenses if you are in an accident with someone without insurance or with insufficient insurance. Collision insurance will pay to have your bike repaired or replaced if it's in an accident, no matter who is at fault, and comprehensive insurance will pay to replace your motorcycle if it's stolen. Like increased liability insurance, such coverage will increase your premium, but the cost of comprehensive and collision insurance can be lowered if you accept a higher deductible. In general, premiums are higher for younger and inexperienced riders and the type of bike can also affect insurance rates.
Riding Gear
Insurance rates for younger and inexperienced riders are high because statistics show that these riders are much more likely to be involved in accidents and submit claims than older and more experienced riders. But, you take a risk any time you ride a motorcycle, regardless of age or experience. The best way to mitigate that risk is to be prepared and being prepared means ATGATT - wearing All The Gear, All The Time. Sure, all that gear can put a dent in your bike budget, and it can be uncomfortable at times when the weather's warm, but wearing it can be the difference between getting some bumps and bruises in an accident and suffering abraded skin, broken bones or worse. And you can keep costs down if you shop wisely - the most expensive riding gear isn't necessarily the best.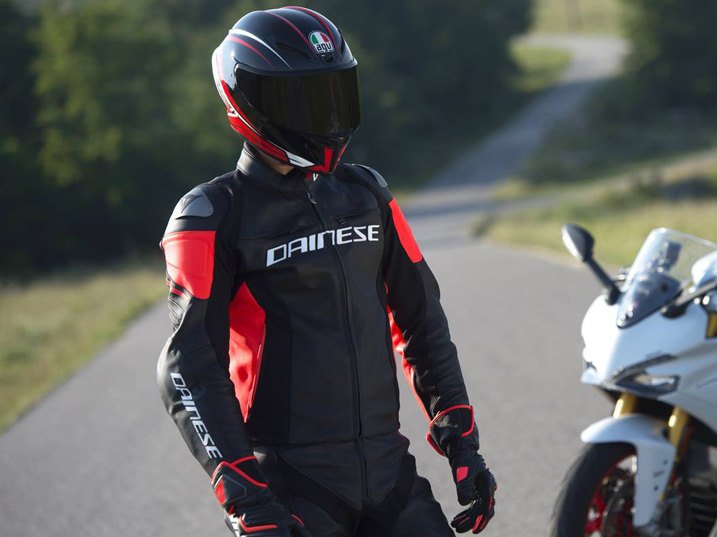 A DOT certified, or better yet, Snell approved full-face helmet should be at the top of your list.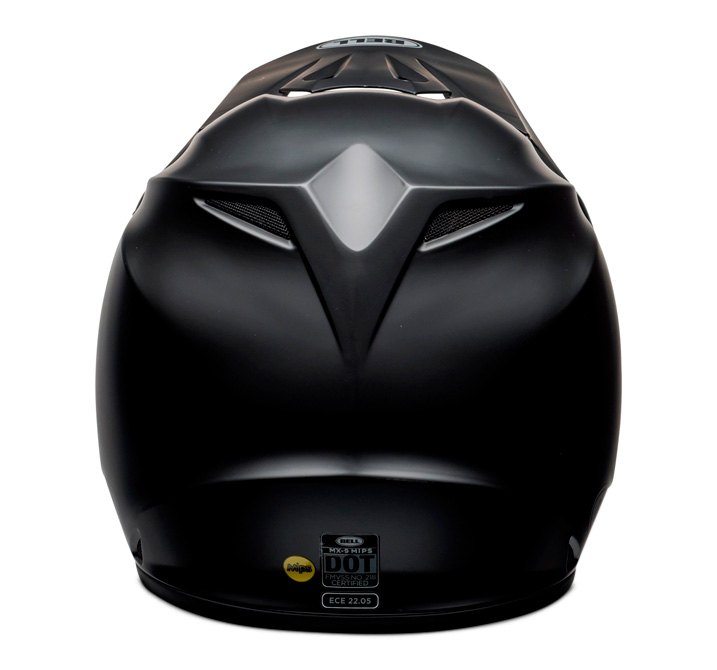 A full-face helmet, with its built-in chin bar, not only provides the best impact protection, the face shield will protect you from bugs and debris that could be distracting or even impair your vision.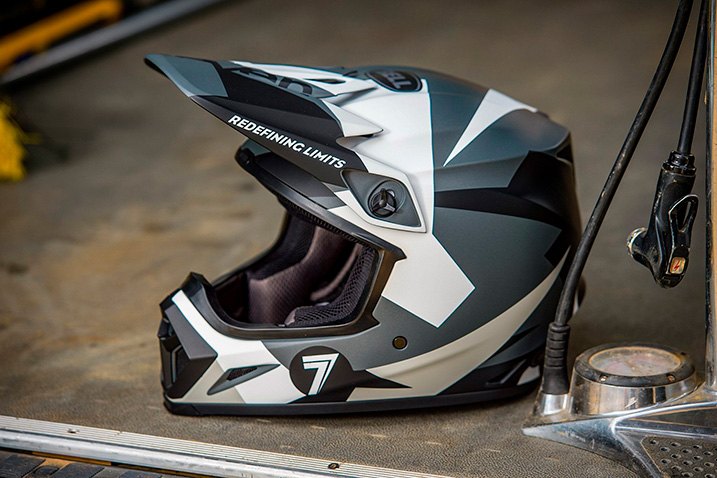 If you go down in an accident, you'll instinctively stick your hands out in front of you in an attempt to cushion the fall. Protect your hands from damage caused by abrasion and impact with leather motorcycle gloves that have padding in the palms and knuckles. Some gloves are available with Kevlar reinforced palms and/or carbon fiber knuckle protection.
Leather or high-quality textile jacket and pants will defend your skin against abrasion and most feature padding at the shoulders, back, elbows and knees. Choose garments that have armor at those locations, instead of just padding, for the best protection.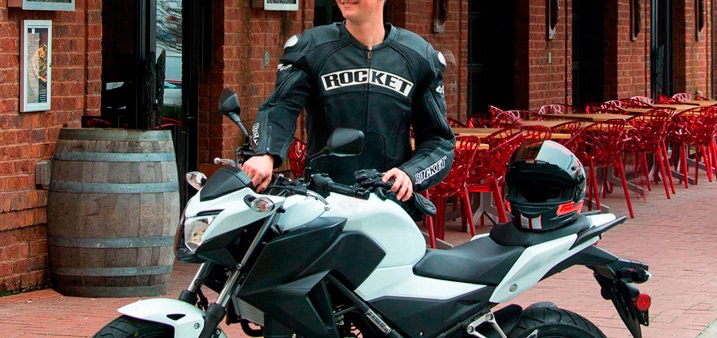 Finally, when you're riding your feet will be busy shifting and braking, supporting you when you come to a stop, and when at rest on the pegs they'll be in close proximity to a hot engine, so sturdy motorcycle boots with non-slip soles are a must, with ample protection for your ankles and toes.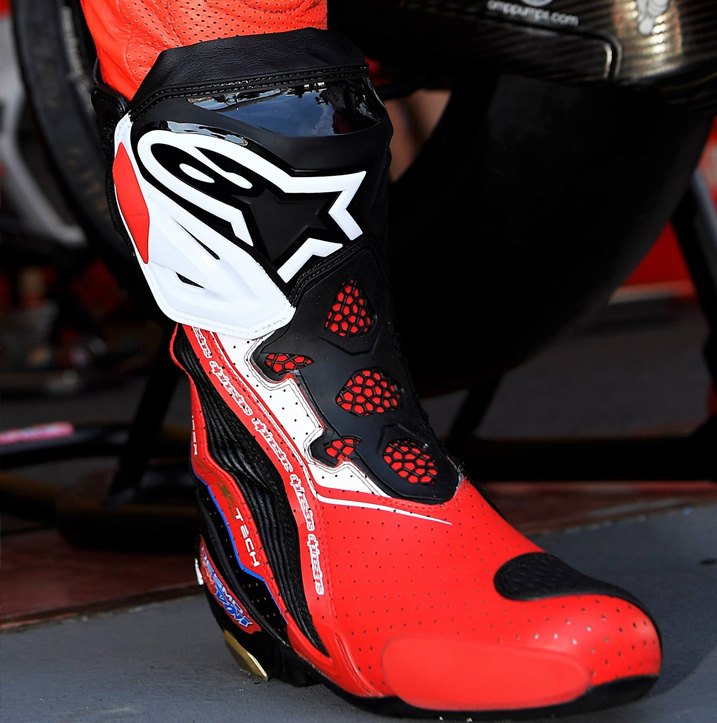 What Kind of Bike?
The answer to this question depends on the type of riding you want to do. Do you want to trail ride? Do you want to be able to ride in the dirt and on the street? Will you be using your motorcycle for commuting as well as pleasure riding? Are you planning to take trips on your bike? Do you imagine yourself leaning into corners on twisty mountain roads or would you rather go for a relaxed cruise? There are motorcycles that excel at each riding variety and some that work well at several types of riding. The following is a list of the different kinds of bikes that are available with some pros and cons for each type:
Dirt Bikes
Dirt bikes, also called off-road bikes, are light weight single-cylinder machines with knobby tires for traction and long-travel suspension to soak up the bumps in rough off-road terrain. Their lack of bulk makes them easier for a beginning rider to handle but that long-travel suspension also puts the seat a good distance from the ground, which can make it difficult to plant both feet when the bike is stopped, especially for those with short inseams. And dirt bikes aren't street legal and must be trucked or trailered to the riding area, so having a pickup or trailer must be factored in to your situation.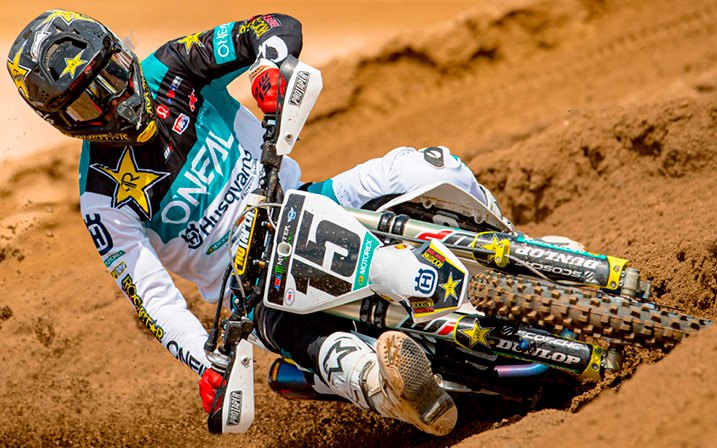 If you do just want to ride in the dirt, make sure you start with a trail bike. To a novice, a trail bike and a motocross bike may be indistinguishable, but they are very different animals. Although they're the lightest dirt bikes, motocrossers are also very powerful, with abrupt power delivery, and not for the inexperienced.
Dual Sport Bikes
Add all the equipment necessary for a motorcycle to be street legal to a dirt bike and you have a dual sport bike. This equipment includes a headlight with high/low beam function, tail light with brake light, turn signals, horn, upgraded electrical system to handle the increased demand, mirror, DOT approved tires and license plate mount. Of course, this equipment makes a dual sport heavier than a dedicated dirt machine, and the suspension may not a have the travel or be as refined as a purpose-built off-roader, but there are many dual sports that perform exceptionally well in the dirt, and they allow you to legally ride back and forth to riding areas. When shopping for a dual sport, make sure it has all the components required for street use. Some dirt bikes have small headlights and tail lights, but no brake lights. These machines are made for off-road enduro competition and they're not street legal.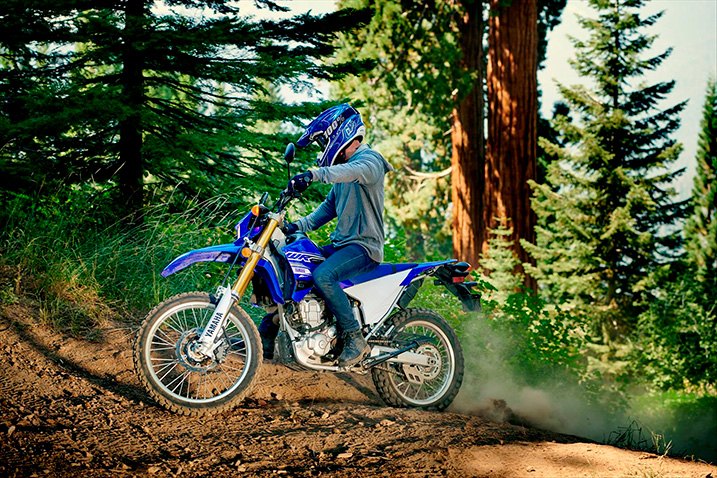 Dual sports are versatile machines with a comfortable riding position, but like dirt bikes, their tall seats can be challenging for rookie riders. It can be disconcerting for a beginner to not be able to support themselves on both feet when stopped at a traffic light. But all dual sport bikes aren't the same and there is no uniform seat height. If you really want one of these machines, go out and sit on as many different bikes as possible until you find the one that fits you best. Light weight dual sport bikes handle well both off road and on. But since they generally have small gas tanks and limited riding range between fill-ups, and their small single cylinder engines are hard-pressed to travel at freeway speeds, they're not for riding long distances. However, they're great around town and on back roads, just know that while knobby tires provide great traction in the dirt, they don't perform as well on asphalt and can wear quickly when subjected to extensive pavement use.
Adventure Bikes
It can sometimes be difficult to differentiate between dual sport bikes and adventure bikes, even if you're not new to motorcycling. But although both are intended for off-road and street use, dual sport bikes are closer to true dirt bikes. Adventure bikes, on the other hand, can allow you to keep going on trails when the pavement ends, but in reality, they work much better on the street, especially when traveling long distances at speed. Adventure bikes have powerful, larger displacement, multi-cylinder engines, fairings that shield the rider from wind on the highway, comfortable seats and ergonomics, bigger gas tanks for longer range, luggage and other gear carrying provisions, and street biased rubber. Of course, all this equipment makes an adventure bike much heavier than a dual sport, which, along with the tall seat, can make an adventure bike a difficult machine to manage by a new rider, especially in the dirt.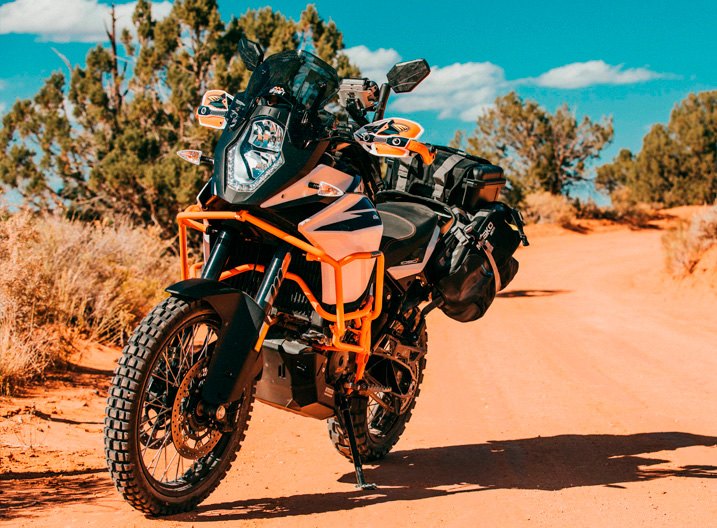 Sport Bikes
Sport bikes are performance machines that resemble road racers built for the track. The larger ones have powerful, multi-cylinder engines with sophisticated chassis, suspension and brakes that combine to provide the highest levels of acceleration, handling, and braking available in a street-going motorcycle. The mechanicals are wrapped in wind-cheating full coverage fairings, with low bars and high, rear-set foot pegs that allow the rider to tuck in behind the fairing. The high peg location also keeps them from digging into the asphalt at extreme lean angles.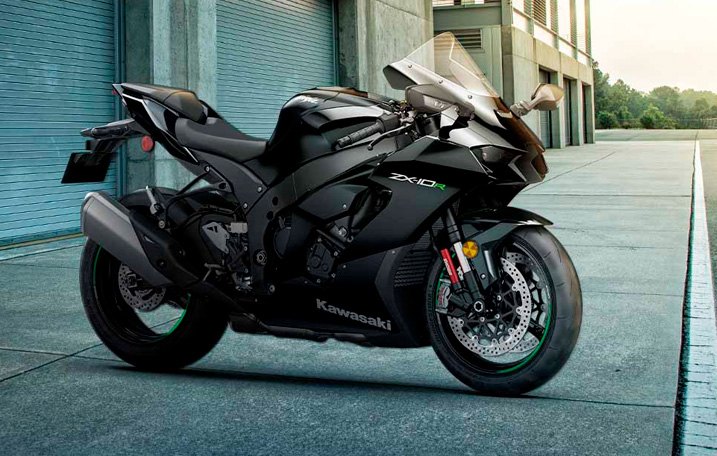 However, although sport bikes are light, and light weight is always a plus for a beginner, their high power can be too much to handle for an inexperienced rider. Those sleek fairings are particularly vulnerable when a sport bike goes down, and expensive to repair or replace. And while the riding position is perfect for corner carving, it puts a lot of weight on your wrists and strain on your neck and legs, which can become very uncomfortable in short order when you're droning down the freeway.
Still, if nothing but a sport bike will do, then consider a small displacement model. These usually have 2-cylinder engines with less intimidating power, and the ergonomics are often more reasonable as well. Plus, they're the lightest sport bikes and generally the least expensive.
Cruisers
Cruisers are the antithesis of sport bikes. Whereas sport bikes are all about speed, most cruisers are for those who'd rather travel at a more laid-back pace. Sport bikes are tall and have short wheelbases, with the rider crouched in tightly for best acceleration and cornering, while cruisers are low and stretched out, with the rider leaned back and relaxed, gripping pull back bars with his "boots in the breeze". Although there are bikes called muscle cruisers with modern, high-powered engines, most cruisers have 2-cylinder engines that, regardless of size, are tuned for low-end torque.
But although manageable power delivery is definitely advantageous for a novice, the cruiser feature that is attractive to most new riders, especially those that are vertically challenged, is the low seat height, which allows them to easily plant both boots on the ground. However, a low seat height coupled with forward controls and high bars can concentrate your weight on your lower back. Add in the fact that a low seat height often goes hand-in-hand with minimal rear suspension travel and you could be in for low back pain after a short time, especially when traversing rough roads. Some new riders can also find that this riding position makes the bike difficult to handle, and this can be exacerbated by the fact that most large cruisers are heavy motorcycles.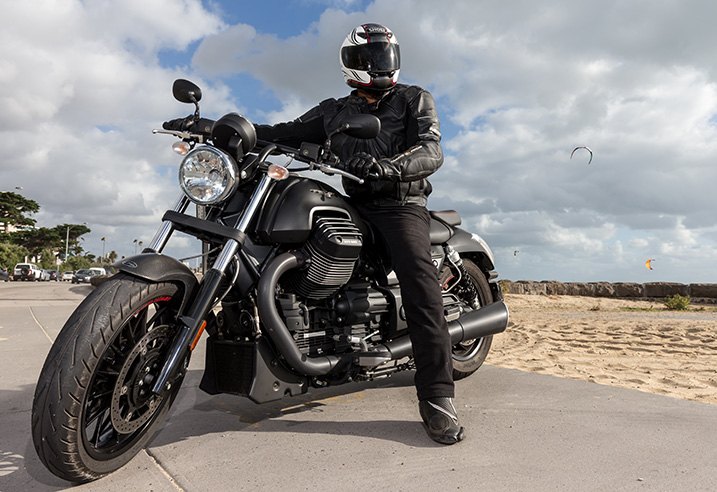 Nevertheless, cruiser ergonomics can vary a great deal. Instead of forward controls, some cruisers place the pegs and controls closer to the seat, and the height and bend of the bars can differ as can the bar, seat, peg relationship. If nothing but the look and sound of a cruiser will do, then we suggest sitting on as many models as you can until you find the one that works for you. Don't overlook smaller displacement cruisers as they tend to be lighter as well as more affordable.
Touring Bikes
With their large torquey engines, expansive fairings, comfortable 2-up seating, ample fuel and luggage capacity, entertainment and navigation systems, and creature comforts like heated seats and hand grips and adjustable windshields, full-dress touring bikes can cover great distances in style and comfort. They're also commonly the largest and heaviest bikes in a motorcycle manufacturer's lineup. Maneuvering a bike with such heft, especially at parking lot speed, is not something that should be attempted by an inexperienced rider.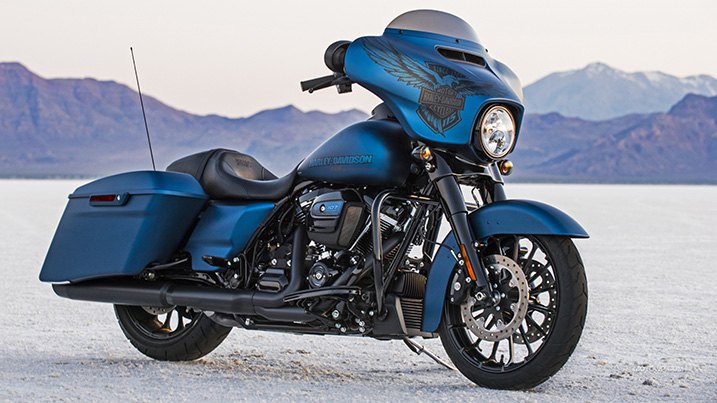 But you don't need one of these behemoths if you want to take trips on your bike. You can outfit just about any bike for touring with the right aftermarket accessories including saddlebags, tank bag, and other forms of luggage, windshield, GPS and phone mounts, Bluetooth communications system that allow you to make calls and listen to music, and much more.
Standard Bikes
Standards are the most traditional kind of motorcycle. At one time all bikes were standards and it was up to the owner to modify the bike to suit the type of riding he wanted to do. With the right accessories, a standard could be transformed into a tourer, café racer, or even a trail bike with the right rubber. The term "standard" became necessary to refer to this type of bike as more and more motorcycles became specialized in the form of dirt bikes, cruisers, sport bikes, etc.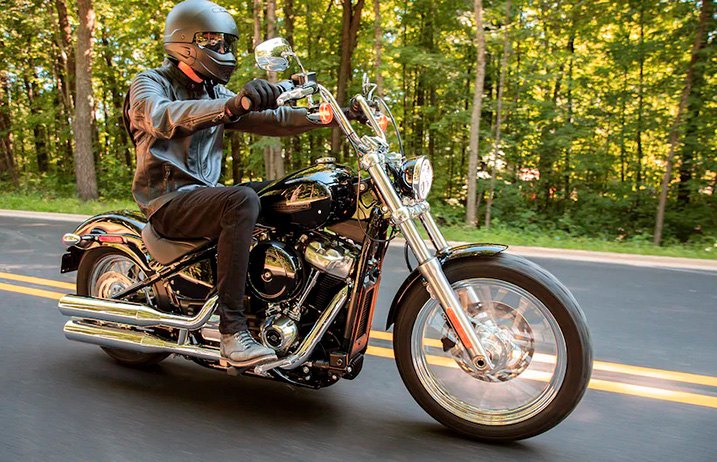 The seat on a standard is higher than a cruiser's but not so tall as to be unmanageable, the pegs and controls are below the rider, and the easy reach to the bars puts the torso tilted slightly forward, for a comfortable, upright riding position. The upright stance allows good visibility and the peg placement makes it easy to put your feet down at a stop. Today's standards retain much of their forebear's versatility, they're great for commuting and spirited back road riding, or slap on some touring gear and you're ready for a trip. Standards are available with engines ranging from less than 400cc to well over 1000cc, but you don't have to go big as even small-to-mid displacement bikes have plenty of oomph and they're lighter too boot.
Sometimes standards are referred to as "naked" bikes but be aware that the naked bikes from some motorcycle makers are little more than sport bikes sans fairings and with a more upright riding position. Without the fairing these bikes are lighter and can be even faster than the sport bikes they're based on and such power can be more than an inexperienced rider can handle.
What Size Bike?
Fit
The way your motorcycle fits you will directly affect your riding enjoyment and how much time you want to spend in the saddle. And the more seat time you put in the more your riding skills will improve, which will make you feel more confident on the road. However, if the riding position is uncomfortable or makes the bike difficult to handle you're not going to want to ride it. If you're uncomfortable in a car you can usually adjust the seat and steering column on the fly to change your driving position but altering the riding position is more difficult on a motorcycle. You may be able to loosen the clamps and rotate the handlebars forward or backward, and the control levers can be similarly adjusted to position them where they're more comfortable. Any further adjustment will involve spending money on bar risers or custom handlebars and a custom seat, and such parts aren't available for all bikes. But instead of trying to fit the wrong motorcycle to your body, just get one that fits best right from the start.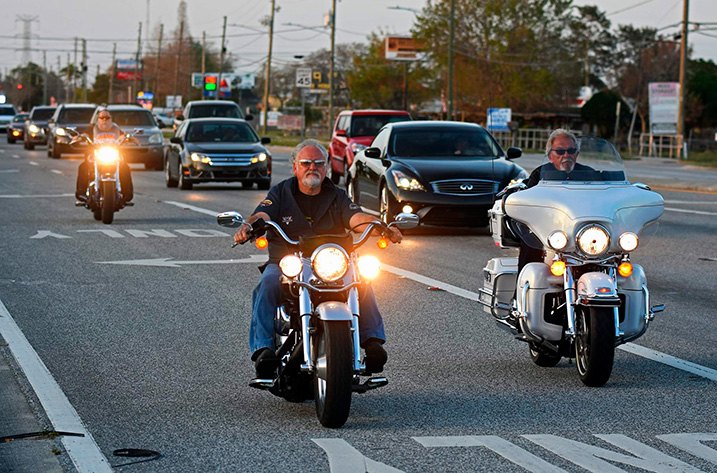 Even motorcycles within a certain type don't have uniform ergonomics, so you should visit dealers and sit on as many of the models you're considering as possible to find the one that fits you best. Nevertheless, the way a bike feels on the showroom floor and the way it feels out on the road aren't the same. If you're not able to go for a test ride, try attending bike gatherings and getting opinions from riders who have the same or similar model and research the bike's fit and riding characteristics on the internet.
Engine Size
Motorcycles are traditionally classified by engine size and as a rule, the bigger the engine the larger the bike. Unfortunately, also as a rule, as a bike's displacement increases so too does its weight. New riders are often advised not to get a smaller machine as their first bike, because they'll soon outgrow it and want something bigger, but that assumption isn't necessarily true. Starting out smaller makes more sense for several reasons.
You only need as much power as is necessary to do the kind of riding you want to do. For example, the highest rate of continuous speed you'll need to attain will be on the freeway, and a 600cc-650cc twin will easily keep up with traffic when commuting or taking a trip. A smaller, lighter bike with manageable power is much easier for an inexperienced rider to handle. A big bike with a lot of power and heft can be intimidating to a newbie and could hinder your ability to learn the skills that will help you be a better rider. Smaller bikes are also typically less expensive.
Many a rider, myself included, has succumbed to the siren song of horsepower. Years ago, when I sold my middleweight sport bike and moved up to a big bore machine I was thrilled with the power but not so fond of the increased avoirdupois. It was a blast to ride but I missed the flickability that my smaller bike had.
New or Used?
New
If you buy new you're getting the latest in technology. While many advanced features like traction control, electronic suspension and cruise control are only found on larger, more expensive machines, even entry level bikes are fuel injected and many have ABS and sophisticated instrumentation. You can count on a new bike to be dependable and if you do have any problems it comes with a substantial warranty. The obvious downside to buying new is the cost, but unlike buying a used bike where you may have to pay in full, at a dealer you can finance your purchase.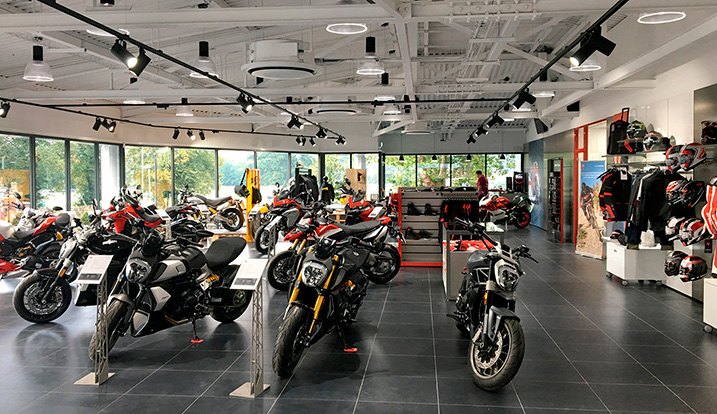 Used
When buying used you should begin by determining the approximate value of the bike you're considering. There are online price guides and you can look at classified adds to see typical asking prices. Be sure to factor in sales tax and title transfer and registration fees into your bike buying budget. It will generally be more expensive to buy a used bike from a dealer because a dealer has overhead expenses, but there are advantages that can make the additional cost worthwhile. Most dealers only take bikes that are in good condition in trade. You can be reasonably confident that you're getting a good performing, reliable machine because the bike has been inspected by an experienced technician, especially if the dealer stands behind the bike with a limited warranty. You may also be able to finance the bike through the dealer.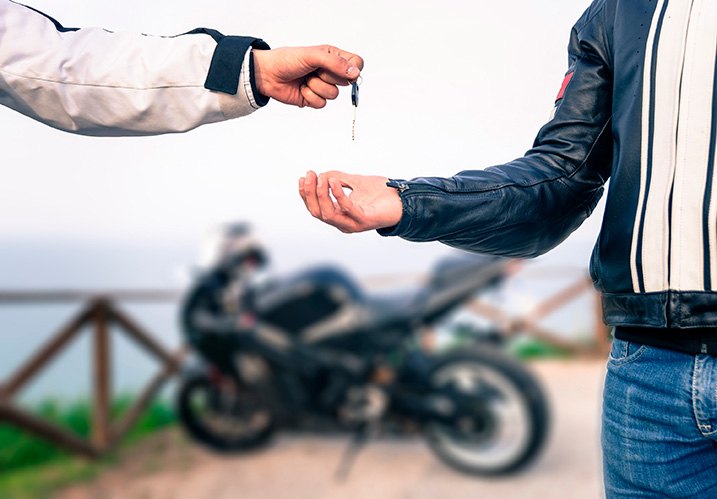 It's imperative that you be accompanied by someone with experience evaluating a motorcycle's condition when you're checking out a used bike offered by a private seller, because once money changes hands and the title is signed over, it's your bike and the seller has no further responsibility. Before going to look at a bike, request that the seller leave it cold, so you can make sure the bike doesn't have a cold start problem or make any unusual noises when the engine is cold. When you arrive ask to see the title and compare the vehicle serial number on the document with the one stamped on the bike's headstock to ensure they match.
Look at the overall condition of the bike. Are there any scrapes, broken or bent lever ends, or other evidence that the bike has been down? Is the paint bright and shiny? Are the seat and various plastic and rubber parts in good shape? Are metal parts rusted or oxidized? Paint that is faded along with cracks in the seat cover, dried out plastic and rubber parts, and rust could be evidence that the bike hasn't been well cared for and sat outside, exposed to the elements.
Check the engine, forks and shocks for fluid leaks, and check the inside of the fuel tank for rust. If the brake fluid is dark brown, it likely hasn't been replaced in a while, if ever. Inspect the chain and sprockets for wear and check the tires for tread depth, cracks and unusual wear. Also check the tires' 4-digit date of manufacture molded into the sidewalls. The numbers indicate the week of the year the tire was manufactured; for example, 1117 means the tire was made in the 11th week of 2017. Most tire makers recommend that motorcycle tires be replaced if they're more than 5 years old regardless of how they look, so if they're due factor that cost into what you want to offer for the bike.
Some sellers will have no problem allowing you to take a test ride, some may ask you to sign a document stating that you agree to pay for damages should you drop the bike, and others may insist on holding full asking price payment in cash while the bike is being ridden. As a beginner you may feel uncomfortable riding, let alone evaluating, an unfamiliar machine so be sure to bring along an experienced, knowledgeable rider for the road test.
If the engine sounds OK after starting, the bike performs well during the road test and you decide that it's the machine for you the only thing left to do is negotiate a sale price. Anything you find wrong with the bike that will require you to spend additional money and any modifications or accessories that the owner has added to the motorcycle must be considered when you're bargaining. Once a sale price has been agreed upon, make sure the title is signed properly and ask for a bill of sale signed by you and the seller. This will confirm that it's your motorcycle until you can get the bike retitled in your name.
Research
Do your homework each step of the way and your first bike search and buying process will go smoothly. Look online to find where training courses are offered nearby and to find out what the insurance requirements are in your state. There's plenty of riding gear info on the internet, including recommendations for beginners, and you can explore all the different types of motorcycles and bone up on the various makes and models available within each type. There are web sites and message boards devoted to many makes and models where you can learn about rider experiences, maintenance and repair procedures, and more. You can ask questions and they may have searchable archives where you can find answers. There are also a number of web sites that go into more detail on how to buy a motorcycle.
But don't just sit in front of a computer screen. Visit dealers and go to wherever other riders gather. Motorcyclists are great people, and no matter whether you're communicating with them online or in person, most are always ready to talk bikes, answer questions and give advice.
We hope these tips help you make an informed decision, so you end up with the first bike that's right for you. Every rider has fond memories of their first motorcycle because that's the one that launched them on the road to a lifetime of riding pleasure. May your journey be equally enjoyable.
January 21, 2021