In this article, we cover motorcycle helmet accessories that let you replace individual components, care for your helmet, enhance safety, and boost style. When shopping for replacement parts specific to your helmet, we recommend using check boxes along the left side of the screen (with names of helmet manufacturers) under the "BRAND" heading.
We'll start with helmet components more likely to need replacement.
Helmet & Sun Shields

If you ride regularly, your clear windshield piece is going to get scratched and scuffed - there's no avoiding it. And if you're less than careful about how you store your helmet, the part you see through can get damaged even more. For good visibility and safety's sake, we recommend replacing your sun shield every spring when the bike gets dusted off after winter.

In our Motorcycle Helmet & Sun Shields section, you'll find more than just clear wind shield pieces. We've got a variety of anti-glare insert pieces that mount across the topmost part of any existing visor shield. Similar to the top of your automobile windshield, these strips create a deeply tinted area that blocks glare from a setting sun. We've also got hardware bits, fog-eliminating double-pane visors, and even electrically-heated visors.
You may see some of the double-pane visor pieces described as a "pinlock" visors. These are not traditional one-piece designs. Instead, the visor features a second inner lens mounted directly behind the outer lens. Between the two lenses, which are sealed together, is a pocket of trapped air which acts as a temperature insulator between the inside and outside of the helmet. Because the inside visor piece won't get cold due to outside air, condensation is virtually eliminated.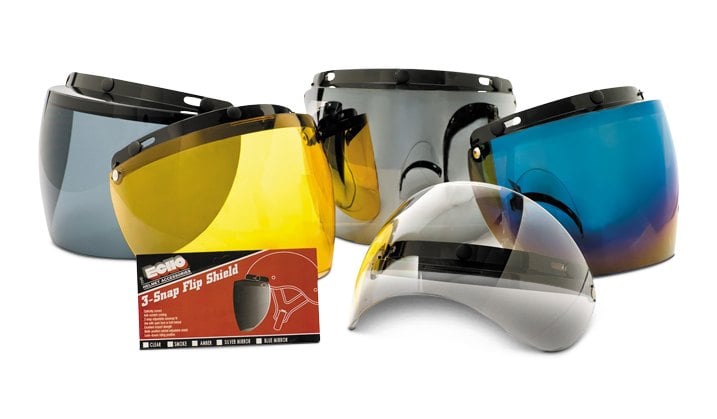 Transparent visor pieces may be available in a range of colors and UV tints. For example, dark lenses and mirrored lenses give the best protection against glare in bright, sunny areas. If your climate is perpetually cloudy, yellow- and rose-colored lenses help your eyes define shapes better among shades of gray. And if you ride a lot at night, clear lenses are best while darker ones can pose a safety risk by making it difficult to see.

If you're considering an open face helmet or one with a tilt-up wind visor, make sure any separate goggles or sunglasses you plan on using will fit inside it properly. Many helmets will offer you the chance to purchase fitted goggles in the Product Options field.
Visors & Peaks

While the term "visor" is often used to refer to the clear Plexiglas windshield piece you see through, it also applies to sun-blocking awning pieces that mount on the helmet above the forehead - making riding both more comfortable and safe. In our Visors & Peaks section, you'll find visors along with pieces known as "peaks". Visor pieces tend to be trim and compact, while peaks are generally bulkier and larger.
Visors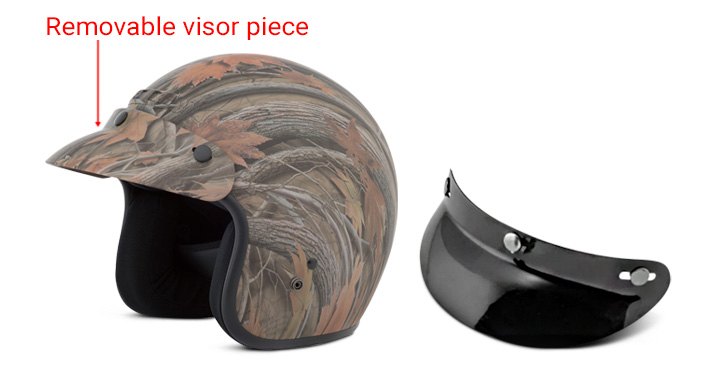 As we mentioned, visors are smaller, more discreet pieces created for riding in a level position on paved roads. Since visors are designed to fit specific helmets, we'll list which ones on individual product pages.
Peaks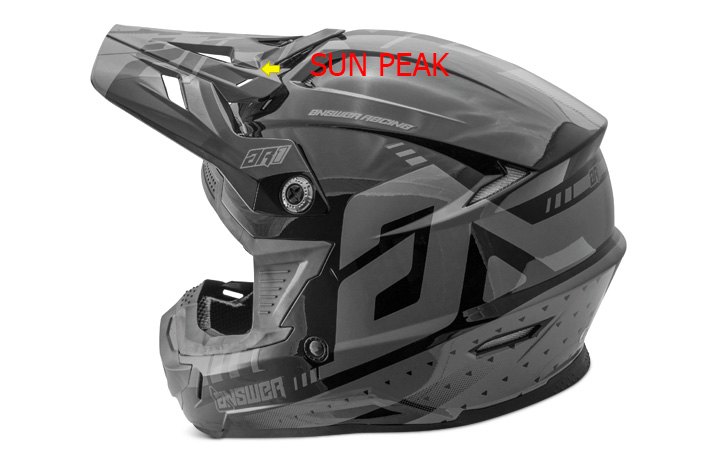 Peaks are larger and provide a greater amount of sun blocking. As peaks increase in size, a rider doesn't need to tilt their head down as far to block a sun that's low in the sky.
Since it's common to ride up and down hills at extreme angles while off-roading, some helmets (typically dirtbike and dual sport type helmets) are designed with a large sun peak attachment on the front. These peaks can keep the glare out of your eyes without requiring you to pay as much attention to the position of your head. Like visors, sun peaks can be attached and detached easily.
Breath Boxes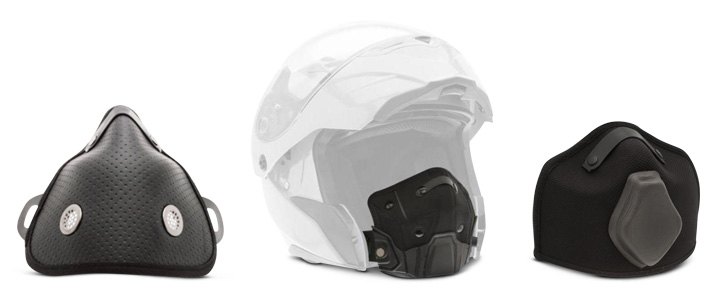 One of the best solutions to the problem of lens fog-up inside enclosed helmets are "breath boxes" - small mouth masks that fit inside the chin area of the helmet. As you exhale, a mouth mask routes moist air away from the visor surface that would otherwise cause condensation to form. If you ride in cold, damp areas, these are worth having. Since these can become a repository for germs, we recommend replacing them regularly.
Vents & Diffusers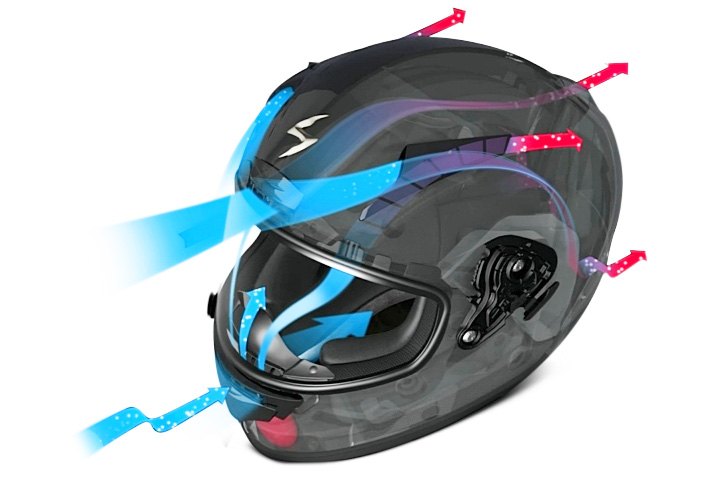 With the visor shut, an enclosed helmet would create uncomfortable sweating and moisture buildup everywhere. To prevent this, all enclosed helmets feature ventilation channels for fresh air to flow throughout, giving the wearer easy breathing and relief from fog-up.

The most common reason vent pieces need to be replaced is they become damaged after a helmet is dropped on the floor accidently. They have to be brittle to ensure they break off in an accident instead of catching on things - at which point a rider's head could twist sideways with additional injury.
In our Vents & Diffusers section, we've got replacement center vents, mouthpieces, top vents, chin vents, front top vents, rear vents, and other useful hardware pieces that you may need to restore the integrity of your helmet.
Pivot Kits & Covers
In our Pivot Kits & Covers section, you'll find lots of replacement components that allow a sun shield or modular helmet bottom section to flip up and down. This includes hinge mechanisms, gear wheels, special screws, springs, and various ratchet pieces for the mechanicals, and it includes protective cover pieces. Additionally, we've got replacement inner jaw covers and push-up pieces typically found on modular flip-up helmets.

Helmet Lights
Center High Mounted Stop Lights (CHMSLs) became mandatory on all cars and trucks sold in the U.S. for the 1986 model year. A Department of Transportation study two years later confirmed vehicles featuring CHMSLs were rear-ended 13% to 22% less than vehicles not so equipped (results varied by state). So there's no arguing they consistently increase safety.

In our Helmet Lights section, we've got lightweight, curved light bars that serve as CHMLs by mounting on the outside of your helmet - where they're best seen by those behind you!
These contain a series of LED lights which flash in sequence with your turn signals and brake lights - increasing safety dramatically by increasing your visibility to other drivers. After mounting the control base on the bike and hardwiring it to the turn signals, the signal is transmitted wirelessly to the helmet light bar. You owe it to yourself to enjoy this cool feature that can save your life on the road.
Helmet Care
Considering how vital head protection is to safety, caring for your helmet and making sure it doesn't become compromised is a no-brainer. We dare say when you've got your helmet out, treat it as if it were your own child. Don't let it fall on the ground. Never leave it on the floor. And don't store it where it can be exposed to noxious fumes, high heat levels, or damaged by nearby objects.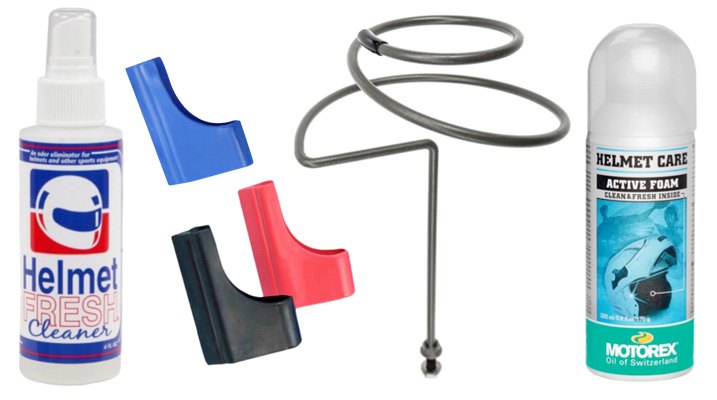 We'll start by pointing out that, in our Helmet Care section, we've got the compact and versatile GMAX Helmet Stand which lets you safely store your helmet anywhere - and display it for viewing if you choose. We've also got products that clean and deodorize the inside of your helmet and effectively squeegee water off your visor while riding. Continuing the theme of helmet care, any motorcycle owner would be well served to check the section of this article regarding helmet storage bags.
Get Rid of Toxic Helmet Odor + Pollutants
As you ride, airborne pollutants are constantly streaming through the vents of your helmet. Inner padding layers tend to trap these along with natural oils and salts from your body's perspiration. As this funk builds inside the helmet, it can eventually create toxicity that you breathe. Padding layers can also break down and deteriorate.
To prevent this, we recommend cleaning the inside of your helmet periodically with active foaming cleaners that lift deep dirt out of surfaces for removal, deodorize bacteria smells, and brighten colors that have become dingy.
Helmets have interior liners that can easily be removed for cleaning, and many of the liners are "moisture wicking". A wicking fabric is one that's made of polyester mesh that draws moisture away from the body, but doesn't absorb it the way cotton does. Instead, the mesh spreads moisture out so that it can evaporate more efficiently. You stay feeling dry, instead of wearing a helmet that's soggy and damp on the inside.
Keep Water Off Your Visor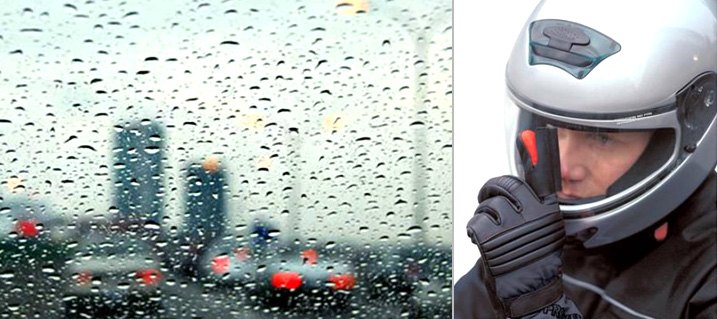 When you get caught in the rain on a bike, it's no laughing matter. You need to be at full attention to avoid poor driving habits of others which only get amplified in bad weather, and you need to see clearly in order to do so. Forget wiping your visor with a glove - that can lead to a blurry mess. Instead, keep yourself safe by maintaining visibility with a set of finger wipes that fit easily onto your thumb or other finger.
The Prairie Dog Finger Visor Wiper Set is just what its name indicates - small rubber wipers that are worn on your thumb or finger for quick and easy removal of water, mud, or insect splats on the visor. These are stretch-to-fit, so they'll fit any rider's finger and can even be worn over most riding gloves.
Helmet Bags
In our Helmet Bags section, we've got soft padded bags in a variety of shapes and sizes. These are designed to surround and cushion the finish of your helmet while protecting the most vulnerable parts from damage whenever the bag is carried, moved, put down, or stored.

If you need to carry your helmet while keeping both hands free, check out the Nelson-Rigg Helmet Compact Backpack (choose one or a pack of six) and the Fly Racing Helmet Shield Bag that straps around your waist or over the shoulder. The Pro Circuit Monster Helmet Case holds one helmet in a deeply padded compartment, and it's got extra room for 3 to 4 pairs of goggles, visor pieces, or other equipment such as GoPro gear.
Inserts & Liners
As we mentioned above, caring for your helmet includes removing your interior liner and cleaning it. But if your old interior liner has become grungy or degraded (it happens), we've got moisture-wicking replacement liners in our Inserts & Liners section - all with original, tailored fits for a variety of helmet brands.

You'll also find individual replacement liners, cheek pads, and more within the Product Options section of most helmet pages.
Cheek Pads

Like interior liners, cheek pads serve a cushioning and comforting role for the side of your cheeks, plus they help ensure your helmet maintains a snug fit. When they've reached the end of their lifespan, we've got the replacements you need in our Cheek Pads section.
Helmet Decorations
Helmet decorations we offer make it easy to turn your helmet into a fashion statement that's uniquely your own. For example, there's mohawks and saw blades in different colors, and we've got high quality reflective decals that add safety by making you more visible at night. Thanks to strong 3M double-sided adhesive, all of our decorations will stay in place after years of sun exposure. Should you choose to remove them completely from the helmet, the adhesive tape will come off without damaging the helmet surface.

Most mohawk and saw blade decals include a base that is attached to the helmet, allowing you to quickly remove or attach your decoration with ease. We'll note that these attachments are built to withstand triple-digit speeds without flying off or breaking apart, so they'll "stick around" for awhile.

To continue your education on motorcycle helmets, we invite you to read the other articles on our website regarding our Motorcycle products lineup. And if you have any questions, we'll be happy to answer your calls seven days a week!
June 10, 2019