Choosing the right gear that's a good fit for your motorcycle is a truly worthy quest. But when you really look at all the great motorcycle-oriented jackets, pants, vests, footwear, undergarments, eyewear, gloves, head & face coverings, and other items that exist in our Riding Gear section, narrowing your selection may not be so easy. For a quick summary of what we mean, our related article New To Riding? What Are The Best Choices For Your First Set Of Riding Gear? is well worth a few minutes of your time to read. There, we discuss a variety of important items designed to boost safety and style for any rider regardless of motorcycle type.
In this article, however, we narrow our scope by looking only at top items you may be more likely to need or want if you're riding any of the specific types of bikes below. It's not intended to be a complete list of everything you'll want to purchase for each bike style - just a few experienced suggestions.
We've based our recommendations on specific product benefits, and we've considered what customers ask for most. In some cases where it's helpful, we've created links to specific products that best reflect our discussions.
Choppers
When it comes to choppers, visualizing the type of customized bike you'd see in Orange County Choppers or Easy Rider comes naturally. While it seems like no two choppers are configured exactly the same way, they usually have seats that put you in a reclined sitting position, long front wheel forks with raked handlebars, and lots and lots of chrome.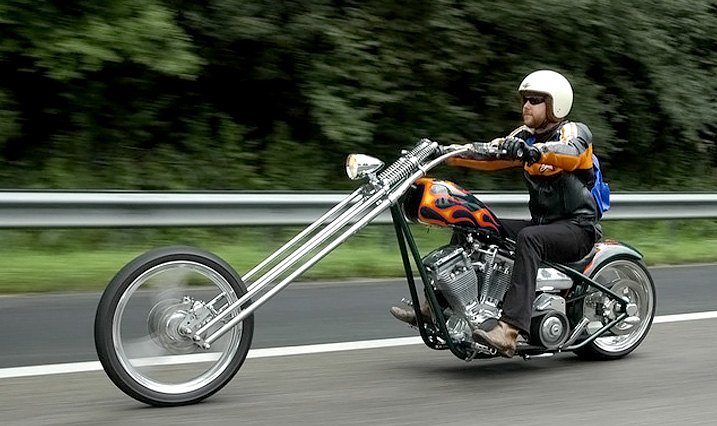 Choppers get attention, and how you look on one will definitely be noticed. Like with any motorcycle, you'll want to consider a full range of riding gear items to make piloting yours safer and more enjoyable. In this case, we'll focus on a few must-have items that really dial up the chopper lifestyle.
Classic Leather Jackets

To start with, there's something about choppers and leather jackets that go hand-in-hand. Taste is, of course, extremely personal - but you may want to take a look at Black Brand's Neanderthal Jacket (men) or Enchantress Jacket (women) for starters. Naturally, leather jackets also go well with other bikes, and you'll find a great selection of jackets that will look right at home on any touring, racing, or sport bike as well.
Head Coverings

Interested in some quality head coverings made of materials that will last? In our head coverings section, you'll find skull caps, bandanas, headbands, head wraps, and more. While their looks speak for themselves, they can also be used to keep your head warmer - or even cooler.
Cruiser & Chopper Boots
The right boots on a chopper are another must-have item, and we've grouped classic-looking boots in our Cruiser & Chopper Motorcycle Boots section. With deeply-grooved treads, steel toe reinforcements (in many cases), and durable materials, these are sturdy boots that look the part.

Since choppers are often ridden around town where lots of gear changes are required, boots designed for them feature built-in "shift pads". These pads are strategically placed inside the boot to absorb pressure against the area of the foot which can chafe after repeated shifting. You'll find the soles of these boots are engineered with deep grooves to provide sturdy, non-slip grip against foot pedals and a variety of ground surfaces. Inner waterproof liners will keep your feet dry if you get caught in the rain. Plus, abrasion-resistant materials everywhere will keep foot and ankle areas well protected should an unfortunate slide across the asphalt occur.
Undersleeves

How about undersleeves that are just what they sound like - pieces that protect only from your hands up to your biceps. These are great in the summer with short sleeve shirts. Choose biker-oriented designs, simulated tattoos, or solid (including high-visibility) colors.
Biker Accessories

You may also enjoy browsing through our Biker Lifestyle Accessories section where we've got belts, buckles, bracelets, lighters, patches, wallets, keychains, and other items that make proud reference to the fact that you're a biker.
Cruiser Bikes
Cruiser bikes are often described as versatile motorcycles that are easy and comfortable to ride all year round - popular for commuting and weekend joyrides in all climates. Many owners say cruiser bikes' comfortable riding position, manageable size, easy-to-reach handlebars, and quiet ride characteristics make taking them to the corner store or to the next state a relaxing experience.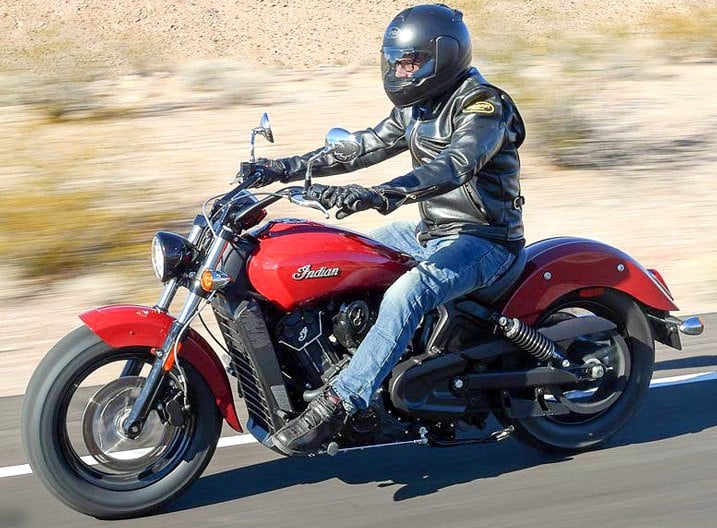 If you've got a cruiser bike, odds are you take it out more often no matter what temperature or time of day it is. In addition to the many riding gear items we sell, we particularly recommend high visibility clothing items along with heated clothes if you deal with cold climates.
Heated Gear Makes Cold Weather Riding Comfortable
If refusal to be a prisoner of cold temperatures sounds familiar because you simply love riding, we understand. For this, we recommend a look through our Heated Gear section where we've got electrically heated vests, pants, jackets, socks, gloves, and insoles to keep you toasty warm in any climate! Connect the power cord directly to your motorcycle's electrical system, or to a compact portable battery which can be carried in your pocket.
And if your riding enjoyment takes you out in the rain, we make it easy to be prepared with specially-designed waterproof jackets, pants, rain suits, boot slipover covers, slipover gloves, and more in our Rain Gear subsection.
High-Visibility Clothing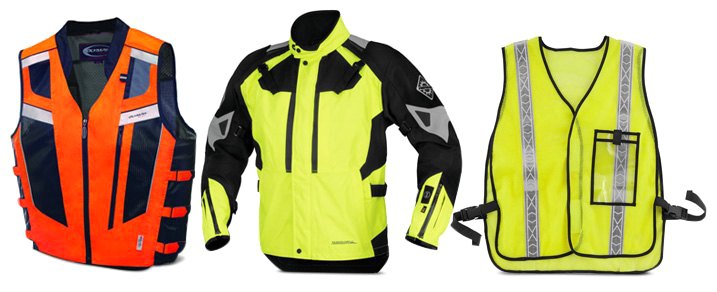 Another important item worth having if you've got a bike you take out more often is high-visibility clothing. This is because if you really want to boost safety because other drivers can see you sooner and from farther away, get yourself one of our high-visibility vests or full jackets. We feel it's important that high-visibility clothes have both fluorescent and reflective materials, because while bright fluorescent colors and accents make you more visible during the daytime, it's the reflective strips that make you more visible at night.
Touring Bikes
With wide supportive seats that aren't too high or too low, an upright neutral riding position, mid-range handlebars, lots of stowage compartments, low-vibration drivetrains, and a large frontal area for protective shielding, touring bikes excel when it comes to comfort on long trips.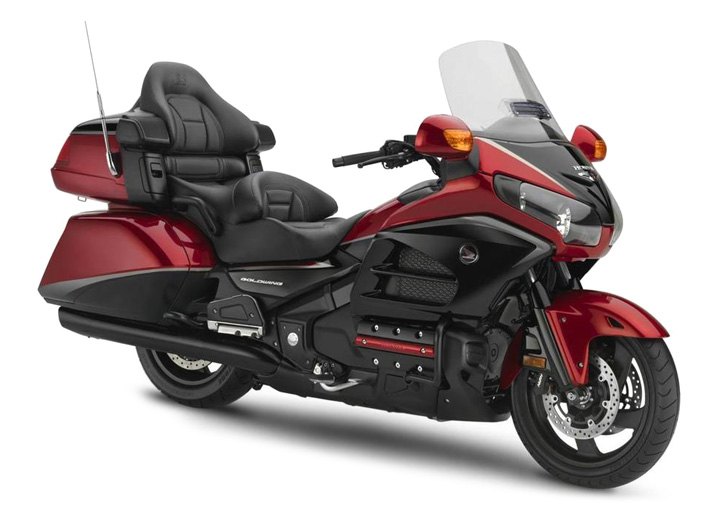 Experienced riders say long bike trips are best taken in a relaxed set of mind, where there's more time to enjoy things you come across along the way. For extended travels on touring bikes, we recommend hydration packs, a selection of specialized pants, and base/mid layer clothing items.
Backpacks & Hydration Packs

Consider a hydration pack backpack that makes it easy to enjoy liquid refreshment without having to stop on long trips. These backpacks accomplish this via a fitted reservoir bag that delivers liquid through a tube to a mouthpiece that's positioned inside your helmet. Most hydration backpacks include extra stowage pockets for other items as well. Or, maximize your carrying capacity with any of our standard backpacks that fit comfortably over the shoulders.
Pants
For clothing, we'll focus on pants - starting with leather chaps from our riding pants section. Because chaps are designed be worn over other pants, you'll have two layers of protection. Plus, they won't confine you to wearing the same pair of pants below them every day of a long trip. If you plan to be on the road at night, consider being prepared with some kind of additional outerwear from our reflective clothing section.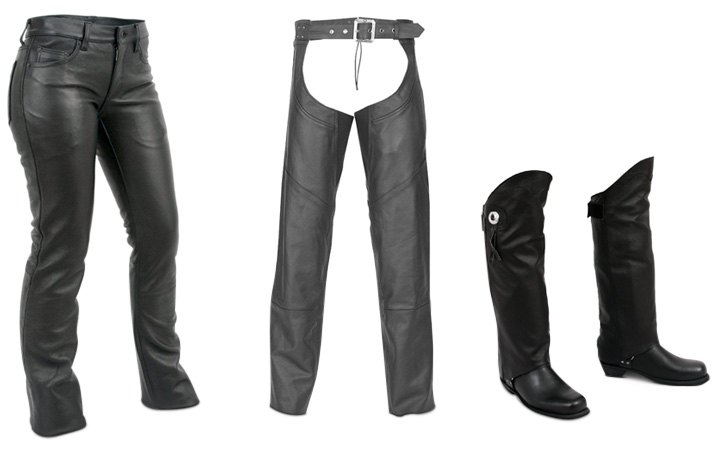 With reflective clothing (referenced further above), you're better prepared to continue riding after the sun sets to reach lodging for the evening - because the odds of prolonging your trip with impromptu stops only increase your enjoyment of longer bike journeys.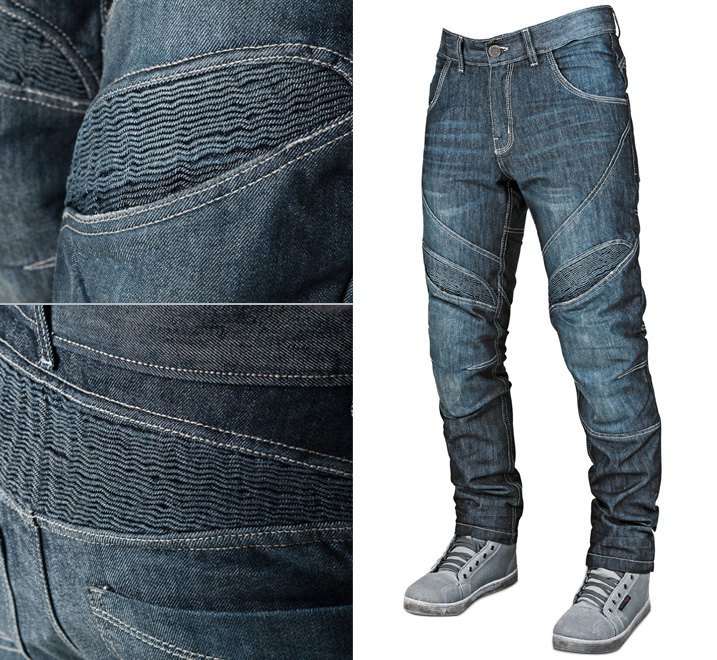 When it comes to other pants for a long bike trip, reinforced denim riding jeans combine visible good looks with solid levels of protection. For example, the Speed & Strength Rust & Redemption Armored Jeans feature Kevlar-reinforced seat and knee areas designed for extra stretch and flexibility.
Another traditional-looking, stylish pants choice is Rokker's textile Riding Chinos. These are slim-fit chino style pants made from a thick, heavy-duty combination of Cordura, elastic monofilaments, and a high-strength polyamide synthetic nylon fiber blend.
If your trip will carry you through hot climates, consider lighter weight mesh pants such as FirstGear's Sirocco Mesh Over Pants with well-ventilated polyester construction that includes waterproof liners, lots of zippered pockets, and CE-approved impact-resistant knee and hip protective cushions.
Long Underwear & Underlayers
For long-term bike trips, being prepared with an extra layer of undergarments found in our Base & Mid Layers section is a must. They don't require much room to stow, and they really deliver extra warmth when weather gets unexpectedly chilly - something that happens in higher-elevation areas. For starters, we've got snug-fitting base layer shirts, pants, and body suits (both one- and two-piece).

Should you prefer to add an additional layer of warmth between base layer clothes or other undershirts, check out our selection of "mid-layer" fleece/thermal pants and zip-up jacket liners. In our Riding Socks subsection, you'll find long, short, and ankle-height socks of varying snugness levels in solid or colorful designs. And don't forget, we've got heated socks & heated insole pieces (referenced further above in Touring Bikes) that can be worn inside any shoe or boot.
Sport Bikes & Racing Bikes
A sports bike has been defined as, "A motorcycle optimized for speed, acceleration, braking, and cornering on pavement" - typically at the expense of comfort and fuel economy compared to other motorcycle variations. Sports bikes typically feature more lightweight materials such as aluminum to maximize agility and maneuverability. They're also shaped to cut through the wind, with seats that put the rider in a forward crouch position at such a height that the bike can be leaned way over without knees contacting the ground.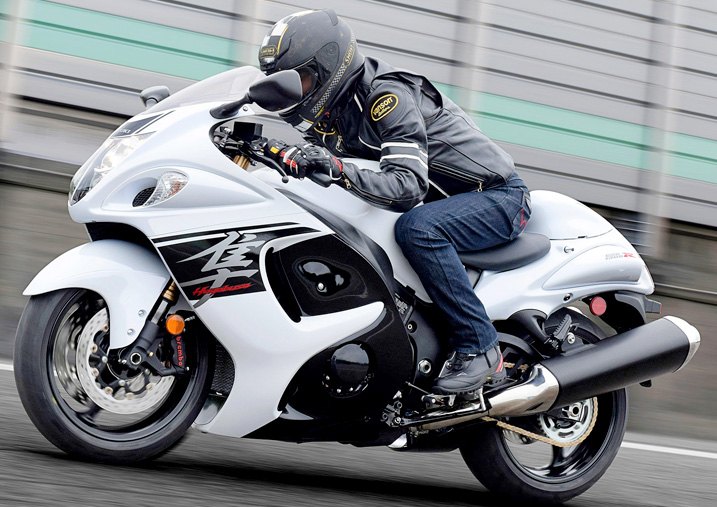 It's only natural that sport bikes are used in racing competitions where extremes are the norm and margins for error are razor thin. So if you're going to be putting a sport bike through its paces at high speeds, we recommend arming yourself with a few extra items that provide maximum protection.
Inflatable Jackets & Vests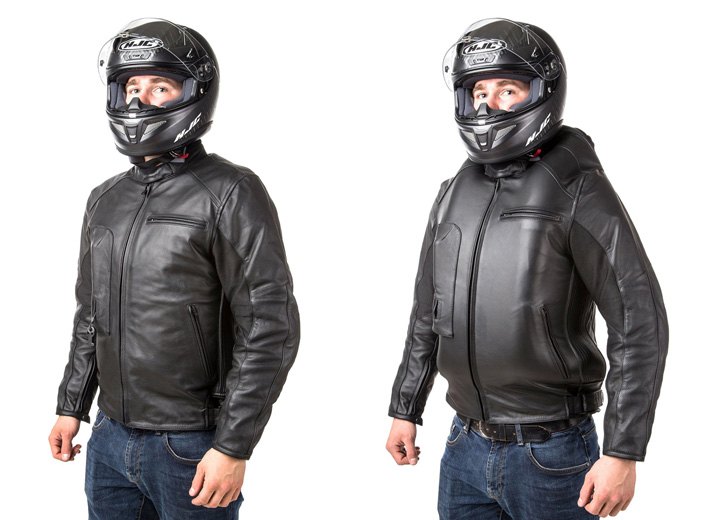 For the highest level of high-speed accident protection on pavement, you need an airbag-equipped jacket or vest, both of which work as their name indicates. Because they're lighter than other armored chest/back pieces and jackets, they won't weigh you down or restrict the subtle, adept movements necessary for control at high speeds.

If you fall off the motorcycle, a flexible coiled wire attached between you and the bike will yank an inflatable gas cartridge into action - fully inflating an inner air cushion liner in less than half a second to protect your neck, chest, back, and internal organs from serious injury. Choose vests for cost savings and a lighter weight option, or go with a full jacket for warmth and more complete protection.
You may also be interested in harder, more rigid protection pads. If so, see our coverage of body armor in the Off-Ride Bikes section further below.
Sports & Racing Boots
Boots in our Racing & Sport Boots section are optimized for maximum sport bike control, starting with tread designs on heel, ankle, and toe areas that are sturdy yet extremely flexible. Quite simply, this allows you to work shift and brake pedals quickly and much more accurately - almost intuitively. Whether you're racing or just on the highway having fun, adept foot control simply makes life better on a bike.

We've got racing boots with "air fit" inflatable inner liners which create a perfect anatomic fit that's comfortable and snug in just the right areas, preventing looseness and slop that robs you of finely-tuned foot control. Many racing boots also feature front and rear "hinge" areas where more elastic material provides maximum flexibility. Other heel, ankle, and shin areas are reinforced to shield you from exhaust heat and protect you from impacts - while reducing the likelihood of ankle twisting if sudden ground contact occurs.
Sport Gloves
For high-speed riding, sport gloves give you the best protection with thick leather, built-in finger/knuckle protectors made from plastic or other hard materials, palm reinforcements, and other padding for high-impact areas of the hands. Sport gloves typically feature double or triple reinforced stitching, often with threads made of Kevlar.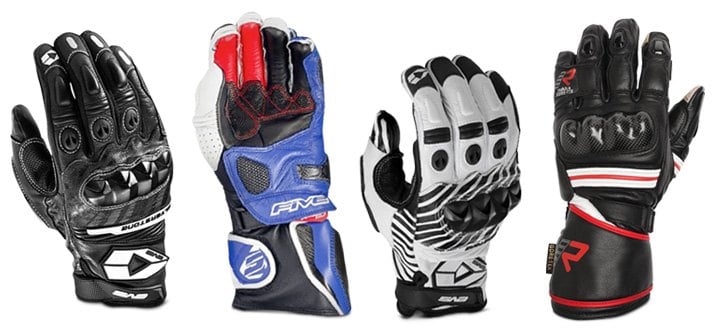 Despite being thicker, sport gloves are well-ventilated to keep hands cool and dry with perforated sections and molded air ducts in strategic areas. They also feature "pre-shaped" finger sections which are curved to reduce long-term fatigue along with ergonomic stretch inserts. Wrist protection is maximized without inhibiting movement to ensure gloves stay secured on your hands without coming off.
Off-Road Bikes
Off-Road Bikes (also known as "dirt bikes") are engineered to handle riding over rough, unpaved terrain. To soak up the pounding, off-road bikes are equipped with a huge amount of suspension travel, knobby tires for grip, and minimalistic frames to keep weight down. While most off-road bikes can be also ridden on the streets, their higher level of noise, vibration, and harshness makes them a less comfortable choice for trips of any duration.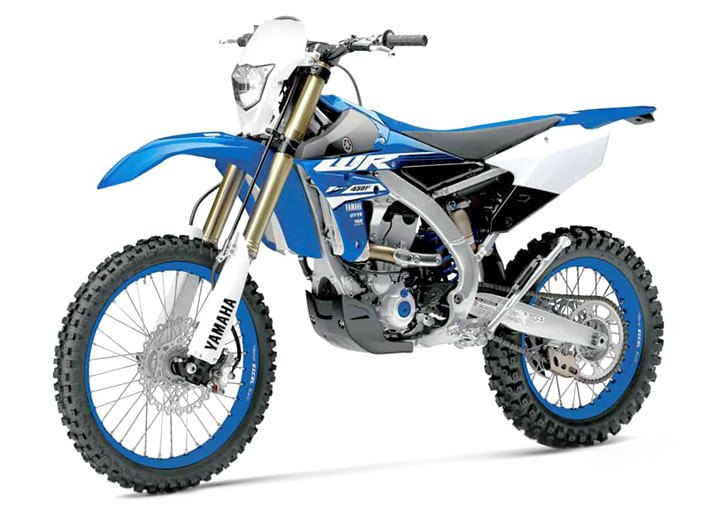 Here, we'll focus on boots and pants designed around the needs of the off-roader, along with hard-shell protective armor for spills. And because off-roading can be a hot, sweaty affair, we'll look at insulated cooling vests.
Off-Road Boots
Data indicates one in three reported injuries from motorcycle crashes are in the leg and foot areas. Many such injuries can be prevented by wearing motorcycle boots specifically designed with higher levels of protection against impacts, abrasion, and other dangers. While reinforced boot construction is important no matter what type of motorcycle you ride, it's especially vital when pounding over jumps, steep inclines, and rough dirt trails on an off-road bike.

Forget work boots or any other footwear that you think are up to the job - because, on a dirtbike, they're not. Off-road boots feature higher, thicker, and more rigid construction along with flexible armor pieces that protect shins, toes, feet, and ankles from serious impacts. And should you wipe out in such a way that a foot is trapped under hot exhaust pipes, reinforced boot construction will effectively guard against high heat levels and burns. Because you may be standing hard against both foot pegs while riding, off-road boots are built with strong soles designed to handle this exact type of pressure.
Note that off-road boots do not include laces or any loose pieces that can become tangled in moving parts. Instead, they use adjustable straps, zippers, and buckles in strategic areas for a precise fit that's snug yet comfortable.
Body Armor & Protection
Like it or not, low- and medium-speed wipeouts are common on various types of off-road bikes. Experienced professionals say it's not a matter of if you'll fall off a dirtbike, it's a matter of when. Because the terrain can be rocky and unpredictable, smart riders tend to invest in good quality motorcycle body armor and protection.

This includes armored chest/back pieces and jackets, elbow/wrist protection, knee/ankle protection, armored jackets, armored pants, neck braces, and much more. Not only will they provide the highest levels of protection against broken bones and major injuries, they'll provide a comfortable and effective shield against flying rocks and other debris.
These protective pieces are typically made from molded ABS-plastic that's flexible yet almost impossible to break or penetrate, surrounded by layers of foam cushioning. Many off-road bikers often choose "roost" deflectors (found in our chest/back pieces section) which are narrower than full-coverage chest protectors. Roost protectors allow more arm flexibility for the rider, and they can be worn underneath other clothes. Note that roost protectors may not come with shoulder protection pieces that full chest vests and jackets include.
Off-Road Pants
Off-Road pants offer the protection of durable fabrics such as nylon, polyester, and Cordura but are designed to accommodate the more demanding challenges of off-road motocross riding. Because they're looser-fitting in key areas and have adjustable elastic waistbands, off-road pants stay snug where they need to while allowing a wider range of knee and leg movement without binding or pulling up. Strategically placed padding around knee, fly, yoke, and leg areas provides greater abrasion protection from wipeouts.
Cooling Vests for Rigorous Riding
When you're putting in work on a course or on the trails, it's easy to get overheated under a relentless sun. An effective solution to the off-roading sweats is a cooling vest that surrounds you and keeps your core temperature down. Constructed from specialized polymer fibers and fabrics, these vests are designed to be soaked in cold water for a few minutes.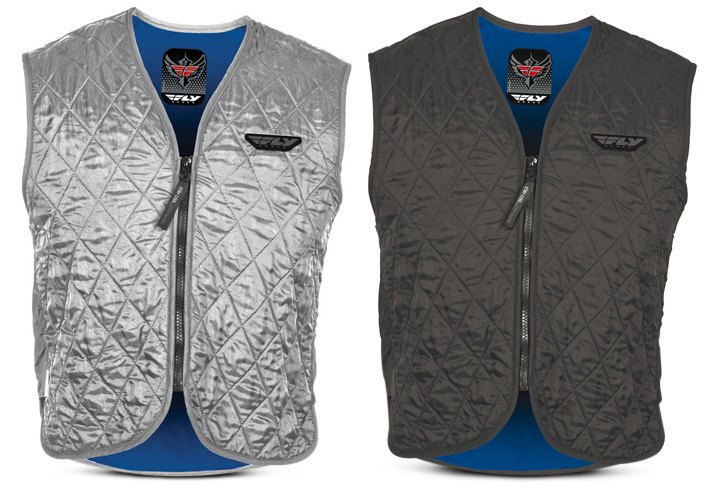 After wringing out the excess water, the mesh fabric will hold and slowly release moisture through evaporation over 5 to 10 hours. During this period, water is retained inside the fabric to keep the vest and you cool - without surface wetness.
Off-Road Gloves
Because the odds of taking a hands-first spill on an off-road bike are higher, we've got MX & Off-Road Gloves specially designed to protect your hands against impacts with nasty rocks, dirt, and grit. These are the gloves you need, because they're padded and reinforced to provide maximum cushioning exactly where it's needed. We'll note that while many off-road gloves aren't intended for regular street use, they are designed to maintain good levels of dexterity and tactile fingertip operation.
Unlike normal gloves covered in a single material, off-road gloves typically feature a multitude of sections made from leather, textile fabrics, and various other synthetic materials. This allows heavier-duty padding and armor to be placed strategically in areas where abrasion protection and resistance are needed most.

To continue your education on motorcycle riding gear, we invite you to read other articles on our website regarding helmet styles, materials, certifications, Bluetooth operation, accessories, and more . And if you have any questions, we'll be happy to answer your calls seven days a week!
June 20, 2019